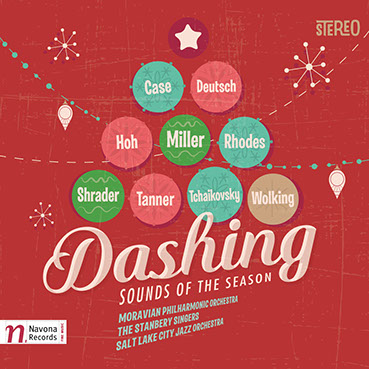 Navona Records is delighted to present DASHING, a festive album for the holiday season featuring brand new works and arrangements of holiday favorites by several outstanding composers, with performances by The Stanbery Singers, the Moravian Philharmonic Orchestra, and the Salt Lake City Jazz Orchestra.
Familiar faces and tunes make appearances here, such as Pyotr Ilyich Tchaikovsky's perennial holiday favorite, Dance of the Sugar Plum Fairy from his ballet The Nutcracker. Henry Wolking provides a jazz arrangement of God Rest Ye Merry Gentlemen; likewise, David Tanner contributes with an arrangement of O Holy Night. His other work, A Visit from St. Nicholas, sets Clement Moore's classic poem "'Twas the Night Before Christmas" to orchestra, with narration by Kerry Stratton. Delvyn Case and Timothy Lee Miller deliver rousing, spirited music with their Rocket Sleighfor orchestra and A Christmas Celebration for wind band, respectively.
Christopher J. Hoh introduces the album's choral works with his invitational Come Now and Celebrate, along with a choral arrangement of Thomas W. Talley's folksong "Behold That Star," composed in the style of African–American spirituals. L. Peter Deutsch weaves choral voices with solo instruments on each of his Three Winter Holiday Songs, "A Winter's Rime," "Hodie Christus Natus Est," and "The Holly and the Ivy." James Shrader contributes two choral works—a setting of "In the Bleak Midwinter" as a theme and variations, and Balulalow, written in a traditional Scottish style. Phillip Rhodes rounds out the album with the luminescent A Lullaby for the Nativity.
Here are links to the album:
iTunes   https://itunes.apple.com/us/album/dashing-sounds-of-the-season/id1146961655
Arkivmusic   http://www.arkivmusic.com/classical/album.jsp?album_id=2211616
Spotify:
A New/Old Publication on the Way!
Last week I received a wonderful post from Chris Matthews at Colla Voce, Inc. stating that they were going to publish my piece, On Christmas Night, in my arrangement for men's choir, flute and harp!
A few years ago Colla Voce published the SATB version of On Christmas Night. This piece is one of my series of works for small choirs with minimal divisi.  It uses the traditional Sussex Carol text set to my new, original tune.
Here's how the arrangement came about: The choirs at Valdosta State University programmed Britten's Ceremony of Carols for their Candlelight Concert in the University Rotunda. This was a great choice as there was no piano available in the Rotunda. Dr. Paul Neal, the then Director of Choral Studies, was looking for something for the men to perform that would include the harp. He asked me to arrange On Christmas Night for this purpose. I "spiced" up the arrangement a bit with the addition of a flute obbligato and the piece has proved to be very successful.
I am overjoyed that Colla Voce, Inc. has chosen to publish this version of On Christmas Night! I know it will be out and available for planning the 2016 holiday season. Of course it works really well as part of a Christmas Eve service. This represents my sixth piece with Colla Voce and I encourage you to investigate the others which you will find by scrolling down on this very page.
Finally, if you have performed or are planning to perform my music, I would love to hear from you. I'm always looking for new recordings of any of the works listed on the Choral Music page. I do have some unpublished pieces available by contacting me directly, and I'm always interested in new commissions – let me write something for you!
Thank you for visiting this page and I'll see you soon – ONLINE!  -JAS
Another Great Announcement!

I am thrilled to announce that I have signed with PARMA Recordings to record two of my choral compositions on a Christmas compilation CD to be released next Christmas on the Navona label. It will be available on Naxos, Spotify, Barnes & Noble, and other streaming, online, and retail outlets.
The two pieces will be In the Bleak Midwinter and Balulalow. The performnce will be by The Stanbery Singers conducted by John Stanbery. We will record in the Cincinnati area in March. I will be there and actively involved in the recording sessions. The release date has not been set yet but it will be in time for the 2016 Christmas season. I hope you will listen, download, or purchase the recording and then share you thoughts with me here.
News Flash!
From the Society of Composers, Inc. (SCI)
Featured on the front page of the SCI website, the SCI Member of the Day for 10/30/2015 is James Shrader. Visit http://www.societyofcomposers.org to see this listing and learn more about James.
Sincerely,
Mike McFerron
Chair, SCI Executive Committee