So, I left you many moons ago and, as always, a lot has happened since. All of our household members got both Pfizer vaccine shots and now have waited our required time post-second shot. So we are vigilant, but hopefully 90% immune to the pestilence! Other extended family members are following suit as the doses become available. Please continue to wear your mask, wash your hands often (20 seconds), and maintain social distancing.
I'm writing this from San Rafael, California. I am on another of my famous Grandpa-Nanny excursions with the two opera stars and my darling granddaughter, Eva. This is the longest time I've spent in this role. A few years ago, we did five weeks in Oviedo, Spain (which was fantastic!). But this trip will be all of nine weeks! We left Valdosta on March 7 and drove to Philadelphia (Germantown to be exact). Then, on March 27, we flew Delta to San Francisco and picked up a rental vehicle for the drive to San Rafael.
I'll try to "briefly" explain what caused all this to take place: Daughter Dorothy is the Director of Administration and Operations for the Opera and Vocal Programs at The Curtis Institute of Music in Philadelphia. She and Curtis decided to make a feature movie based on Mozart's opera La Clemenza ddi Tito. Alek was hired to be the screen writer and co-director. So Alek was off every day shooting a movie! Meanwhile, at the same time, Daniela was working in New York City for Opera Omaha doing a recording project of a new opera. Eva and I were in a three story town house in Germantown! Guess whose room was on the third floor …
On March 27, we had to fly to the West Coast because Alek and Daniela are appearing opposite each other in The Barber of Seville for San Francisco Opera! We have a lovely house in San Rafael which is close to the rehearsal and performance venue. Due to Covid, the performances will be at a drive in theater! At one venue, the audience will be able to see the live performers and at another theater, a live feed will be shown on a screen. Eva and I will be going and I will report back here.
Oh, and did I mention, Daniela is pregnant with their second child (and our second grandchild)! So when the show closes on May 15, I'll probably be winging it back to Valdosta and the Shrader-Macks will stay on here to have a baby! As you surely know by now, we make life interesting! They will eventually make their way to Houston to see Daniela's family and then back to Valdosta. But there's much more excitement to come in the fall — stay tuned!
So, let's go around the horn (afterall, baseball season has begun!)
MUSIC
We're getting closer to the release date of the Navona Label CD compilation "Fleeting Realms" which will feature my very short opera, Frogs Always Get You in the End. I think we're looking at May 14. You can actually see and hear a performance of it on the opera page at this site.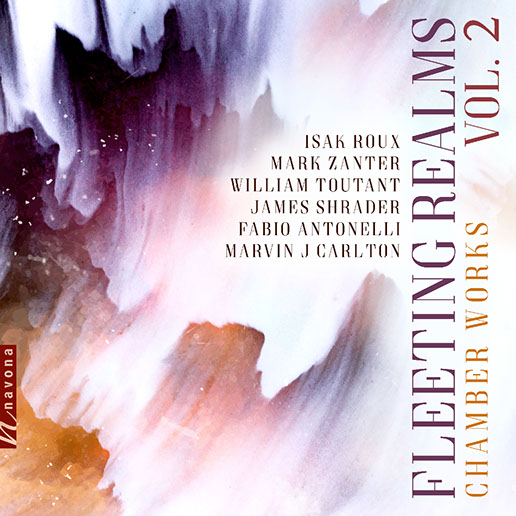 Nothing yet from Colla Voce on my Christmas piece, There Is No Rose, however I have news to report about my pieces available on Sheet Music Plus. I actually sold some copies of my motet Create in Me a Clean Heart to a choir in Norfolk, VA! Yahoo! This has spurred me on to do some direct marketing to promote some of my other titles on SMP Press.
The other music news is that I am integrating a program called Note Performer into my existing Finale scores. I find, that particularly in the area of string playback, the sounds on Note Performer are very realistic. I still prefer the Garritan sounds for many things in Finale, but strings have always been a challenge.
READING
I am hopelessly behind in keeping to the list published on this site. I'm just finishing Michael Jecks's The Dead Don't Wait and I was supposed to finish JA Jance's Field of Bones by December 21, 2020! Then there were the four books I was supposed to have read by March 21, which has gone by! I'm afraid I'm going to need a pause in the ongoing list to catch up!
WRITING
Let's not go here (think sensory overload = writer's block!)
TRAVEL
Well, I've outlined most of the exciting bits above. Moxie and I did take another sojourn in Roxy R-Pod before I departed for Philadelphia. We stayed three nights at the Wildwood Golf and RV Resort in Crawfordville, Florida.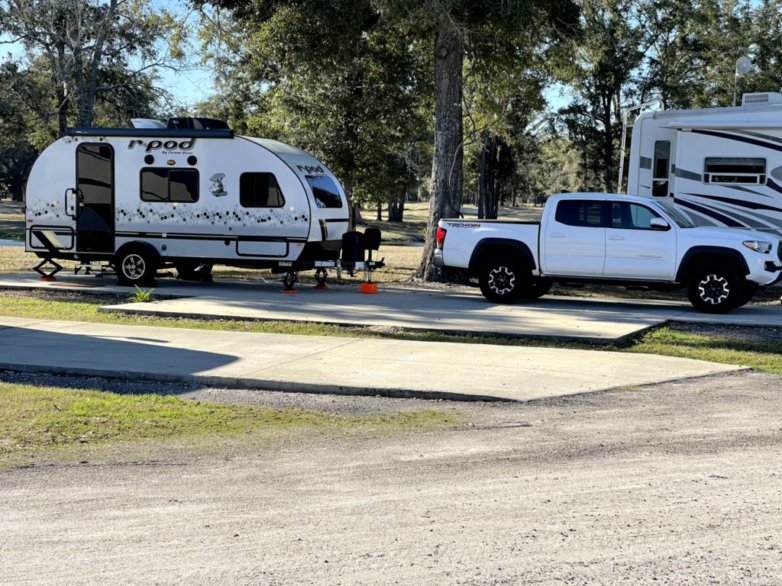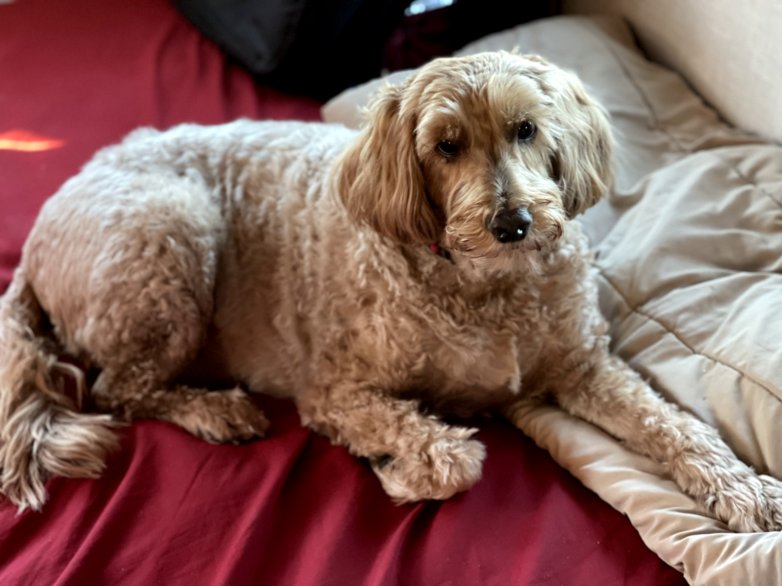 We had a great time, made some new travel friends, took some long walks together, and played nine holes of golf! I haven't actually played on a course since we left Alva in 2006! My golf shoes disintegrated, but my clubs were fine and I only lost three balls! Everything was great with Roxy and her pal, Teddy Tacoma. The Mox and I will head out again in May or June, this time going probably a bit North.
REAL ESTATE
Well, since I'm on Nanny duty, I'm basically AWOL from the RE world. I do catch the weekly Zoom staff meetings. Aija is doing a wonderful job, as usual, at maintaining her business which hasn't seemed to let up yet, although we're starting to see a shortage of inventory. I do miss flying the Drone (Phantom 4 Pro V 2.0), but until my stint on Nanny duty is complete, it will have to stay in hibernation.
AND FINALLY
I think that's all for now. I try to sit down and publish one of these as time permits, although I don't think anyone is really reading them! It's good journaling for me and keeps me in somewhat of a perspective. I continue to send my best wishes for your safety, health, peace, and happiness!
Cheers!