Greetings again from Santa Fe!
I got here on August 1st ostensibly to see some operas but actually to see granddaughter, Eva!  Oh yeah, Alek and Daniela too! I need to return to V-Town on August 6 in order to be ready for school meetings which start next Monday.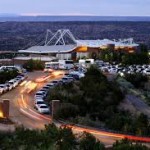 I saw the world premiere of Jennifer Higdon's Cold Mountain last Saturday. It was at the end of my travel day and the time differential was a bit daunting, but I enjoyed the show. Because I know many of the principals, I'm not going to actually review it. Outstanding performances by Nathan Gunn, Isabell Leonard, Jay Hunter Morris, Kevin Burdette, and especially Emily Fons. It was an interesting production with a serviceable albeit abstract unit set. The lighting was a bit dark for my taste, but arguably fit the story well. The orchestration was interesting with some percussion features that sometimes distracted, but, the Santa Fe French horn section is outstanding! Higdon favors the winds over the strings and there are some "chamber" like sections that make for a thin sonority at times. The men's chorus of apprentice artists was wonderful and Higdon is a master at writing for this ensemble. All in all, I think this work will withstand the test of time and become part of the contemporary operatic repertoire. It is somewhat declamatory at time, but there are plenty of tuneful moments to satisfy the traditional opera-goer. Bravi tutti!
Last night I went to Daughter of the Regiment featuring my favorite tenor. It was a delightful production and Alek got all nine Cs and then some! Once again, the orchestra was superb under Italian Maestra Speranza Scappucci. In addition to Alek, kudos to Anna Christy and Kevin Burdette. Christy was having a great vocal night and the physical comedy of Burdette was amazing, particularly a long bit in a wheel chair! It was a really enjoyable evening at the opera house as well as an opportunity to hear Alek in what might be his final performances in this role as he moves on to a more lyric fach.
Tonight I'm off to see Rigoletto and look forward to a production that has garnered good reviews. It's press week here in Santa Fe, so there's lots of attention  by reviewers, agents, and guests from other companies. In the private opera club, there were many dignitaries and schmoozing was in full bloom!
Yesterday, I had the joy of having breakfast with my dear friend and mentor, Ken Davis who lives here in Santa Fe. Ken has turned to landscape painting as a second career after incredible years as a conductor and professor. He still keeps his hand in the choral world through The Ken Davis Chorale which meets occasionally to present concerts. It was a delightful time of reminiscing and discussion. It was so good that we'll do it again over lunch today! Seeing Ken is another great reason to spend so much time in Santa Fe!
Reading: I finished Archer Mayor's The Surrogate Thief. Here is my review available on Amazon:
Archer Mayor has a varied background of life experiences and he brings them all to play in the excellent Joe Gunther series. The plot of The Surrogate Thief is complex but not complicated! It's more a How-Done-It than anything else. You know Joe will come out on top, but how it all unfolds makes for an intense and interesting read. Along the way Joe's relationships play a big part in his state of mind as he is obsessed with solving this tricky cold case from his past. Because Mayor's style pulls the reader deeply into the story, I'm looking forward to continuing the series with the next tome! As with any long series, I suggest you start at the beginning and work your way through the rich tapestry of character development. When you get to The Surrogate Thief, you won't be disappointed!
Now we're travelling to the French countryside and revisiting Bruno Courreges, police chief in the village of St. Denis. The book is The Crowded Grave by Martin Walker. This is a delightful series that sets the reader alongside the investigators right in the descriptive landscapes.
Composing: I got the official word from Colla Voce – not publishing When Christ Was Born of Mary Free. I disappointed, but that's the composer's lot! I'll put it up on these pages as available from the composer and, at the same time, submit it to other publishers. I'm grateful to Colla Voce for publishing five of my pieces and they did invite me to continue submitting new works.
Please comment, reply, share, like, etc. I enjoy hearing from you on these pages!
Must stop now: Time to "bill and coo" with Eva!  Cheers!  -JAS