Greetings everyone and Happy May!
I was supposed to jump in the pool yesterday (my own personal polar bear club), but instead I spent a frustrating day at the Gulf South Conference Softball Tournament – more on that later!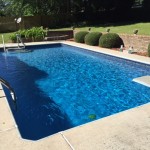 So, I got in the pool today! It was refreshing and invigorating The new liner was installed a few months ago and it is really beautiful, a nice mosaic blue and fits perfectly with the "villa" theme of the back garden. We have yet to fill the stone pots surrounding the pool, but that's on the list! I'm writing this from the gazebo while Moxie is relaxing on her elevated bed!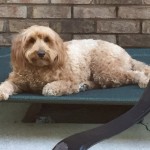 It looks like it's going to be a great week and I'll probably move into the gazebo for it to become my outdoor office for the summer.
Let's take a brief look at some categories:
What I'm reading: In the last few weeks I finished Fields of Glory by Michael Jecks. If you enjoy historical fiction, particularly the medieval period, you must get to know the works of Michael Jecks.  The next read was a visit to Vermont and Gatekeeper by Archer Mayor. I really enjoy the Joe Gunther series. It's great American dectective fiction somewhere between a "cozy" and a police procedural. The characters are interesting and the plots are filled with intensity and drama. Currently, I'm reading in France through Black Diamond  by Martin Walker. The featured protagonist is Bruno Courreges, the police chief in St. Denis, a small village in the South of France. I'm relatively new to this author and series (this is the third book), but I'm thoroughly enjoying it. Walker has the knack of making the countryside come alive and the characters have a distinctive European flavor. I recommend all of these authors for your summer reading. As always, I suggest you start at the beginning of the series and read the books in order. This allows you to see the character development from book to book.
What I'm writing: Not much! I plan to return to full-time writer mode on May 12 which is the day after my grades are due. I'll be working on completing the first draft of Twin Killing featuring Pennsylvania State Police sergeant, Nick Flemons solving a murder at Spring Training. And I'll be plotting and writing the synopsis of Venice Key (working title) about Police Lieutenant Adrian Stone and the intrigues of a small island village off the west coast of Florida. In the world of music composition, I haven't heard from Colla Voce in quite a while. I'm not sure what the problem is – I thought the last piece I submitted was pretty good, but who knows … perhaps it's time to look for a new publisher. I'm working on a new setting of the carol There Is No Rose, and also looking for a one-act opera libreetto. There always seems to be something of interest on the horizon.
What I'm teaching: My classes were over yesterday, although I'm doing some makeup leasons on Monday. The online classes in music appreciation and rock & roll have proceeded as usual. It's always a real "wake up call" when students realize that the self-motivation factor required to successfully complete an online class makes it much more difficult that a regular face-to-face class. As always, I love my Honors class. It's a small class of very intelligent students and it focused on creativity and education using the ideas of Sir Ken Robinson. I'll be sorry to not teach it next fall, but I be returning to an Honors Perspectives class in Leadership which I really enjoyed the last time it came around. My voice students have all worked diligently and are well-prepared for juries which take place on Tuesday. One final excitement takes place next Friday evening when I hood soon-to-be Doctor Rebecca Lanning, EdD. I have enjoyed chairing Rebecca's doctoral committee and she has done outstanding work in developing some "cutting edge" ideas for new directions in music in higher education.
Oh yeah, softball …  Well, our Blazer women are ranked number one in the country (NCAA II) and we have won the Gulf South Conference Championship for the last six years in a row! BUT – all great teams must eventually endure a slump and ours arrived last Thursday. Actually it arrived a few games before that. We were the top seed in the six team  tournament and drew a bye for the opening games. Our first game was against Shorter University and we lost! We left many, many runners in scoring position but couldn't get them in! But it was fine because this was a double elimination tournament and the loss put us in the loser bracket from which we could still recover and gain the championship! On Friday we played our arch-rivals, Alabama-Huntsville in an elimination (one and done!) game. Uh … we lost!  The bats came alive for one inning, but then went back to sleep, AND we started to struggle in the field with errors and misplays. Alabama-Huntsville eventually lost another game as well, so they're also out. North Alabama and Shorter will play for the championship tomorrow.  Now for the good news! We're still ranked number one in the nation and we'll play in the regional tournament next weekend which will probably be held right here in Valdosta. Second chances are alive and well in college softball! I have no doubt that the Blazers will recover from their doldrums and return to knock the snot out of the other teams in the national tournament. Hope springs eternal – but for now, "there's no joy in Mudville!"  See you ONLINE!  -JAS
Please reply, comment, like, follow and share my ramblings with your friends and colleagues!