Greetings!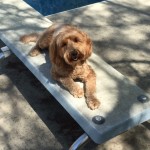 Today I'm writing from the cool (literally) interior of our local Books-a-Million store. I'm here because it's right across the street from PetSmart and I just dropped Moxie off for her monthly grooming spa appointment! Here are some news snippets:
Writing – good news! Although I haven't met my 2000 wpd goal, I did manage to crank out a thousand yesterday and the juices seem to be flowing. We're into chapter three and events are starting to unfold.
Reading – moving right along:
Finished:
Beaton – Death of a Liar
Eccles – An Accidental Shroud
Ellis – Fragments of the Dead
Ellis – Whispers of the Dead
Haddam – Festival of Death
Harrod-Eagles – Dear Departed
Jance – Remains of Innocence
Robinson – The Hanging Valley
Currently reading:
Donna Leon – Beastly Things (Guido Brunetti – Venice)
Still to come:
Mayor – The Surrogate Thief
Van de Wettering – Hard Rain
Walker – The Crowded Grave
Jecks – Blood on the Sand (This one is an epic!)
It's very hot here recently – 99 yesterday and 97 today! I'm off to the mountains of Santa Fe again on August 1 to see Daughter of the Regiment (as well as Rigoletto and Cold Mountain). The new granddaughter is also on the visitation list! When I return, it will be time for school!
On Thursday, 67 will stand up and punch me in the nose! More later … Cheers! -JAS
Please comment, reply, like, share, subscribe and anything else that you care to do! AND, please tell your friends to check this out!  Thanks – J