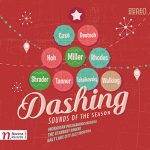 Starting December 5th and running through December 16th, Naxos will be starting a #12DaysofNaxos giveaway where viewers can have a chance to win holiday albums from the Naxos library and their distributed labels. DASHING (featuring two pieces by James Shrader) was chosen as one of the albums advertised in this special promotional giveaway.
YOU can enter to win these fantastic #Christmas albums, including DASHING on NAVONA RECORDS by clicking on http://woobox.com/9m3hh7 
Merry Christmas and Good Luck!
NEWS FLASH: The promotion for DASHING closed on December 7 – the other three albums are still available. The contest ends on December 16. Sorry for the confusion!
-Jim