Late night blogging from the hotel in Clearwater after watching the two elite eight basketball games. So, away we go:
Friday morning, 7:30 am
On the road, I75 south all the way to Clearwater. The forecast called for 80% chance of rain, so I was prepared for a repeat of last year when the St. Paddy's game was rained out! After about two hours, just south of Gainesville, the rain stopped and the sky was bright. I had a glimmer of hope that there would be baseball today!
The bright sky held all the way to Bright House Field and I pulled into the parking lot knowing that the game was on! They parked me at the far end of the lot, so I took the free shuttle to the entrance. I did see a lot of umbrellas (supposedly not allowed in the stadium!) and ponchos. As a token of good luck, I left my jacket in the car. Lo and behold, the game actually started on time.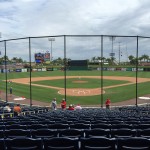 I love my seat that I try to get every year. It's about twenty rows up directly behind home plate. There on the left is the view from my seat. The other advantage is that it is under a short overhang which protects us from the sun and the rain!
I bought a program and was ready to keep score and the game actually started. The first four innings were enjoyable and competitive. I was sitting next to a young lady who was a Yankees fan, so that was fun. Another highlight was the fact that every time Alex Rodriguez came up to bat, the whole crowd (8,000 strong) let go with a long and lusty BOOOOO!
The first disaster came in the top of the 5th inning when the Phillies made a pitching change to Jake Diekman. Jake is supposed to be one of the hopes for the Phils future in pitching – but not on this day! He allowed 7 hits and 7 runs. Score: Yankees 7  Phillies 0! The Yanks came out for the top of the 6th inning,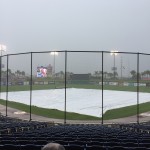 and so did the rain! Huge dark clouds had been threatening from about the 3rd inning, but the downpour was heavy by the 7th. Eventually, the umpires halted play and the ground crew brought out the tarp. To the left is the tarp in place and being rained on!
We waited about 30 minutes and then the announcement came that since it was an official game and more weather was coming in from the gulf, the game would not be resumed.
So – drove to the hotel, checked in, took a short nap to recover from the early morning drive and went to Carrabbas for dinner. After dinner, back in the hotel, I began noticing a bit of a stuffy nose and some post-nasal drip. Uh-oh! Perhaps a cold coming on. It must have been that damn Yankee fan!
I'll continue with part 2 of the saga tomorrow morning – stay tuned!  -JAS