Good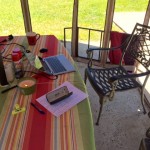 afternoon! Working in the gazebo again today – you can catch a glimpse over there. It's hard to believe it's been eight days since last I blogged! Anyway, it's a beautiful day in the deep south! After several days of excruciating heat, it's actually quite pleasant today with a gentle breeze. The evidence of the high heat lately may be found in the pool which has assumed it's annual temperature of what I term "bathtub!"
The Tweaking in the title refers to the effort I've been putting into the music page on this site. I've uploaded several recordings of my choral works, both published and not; a video of the premiere performance of my Really Short Opera, Frogs Always Get You in the End (This is in front of a gym full of 3-5 graders! BTW, we do eventually get the "musical bugs" worked out!); a performance of the first movement of my Sonatina for Oboe and Piano; and a complete recording of 140 – A Cycle of Songs with texts from Twitter!
There are still some pieces that need to be recorded, so if you are a choral director and would like to tackle one of those, let me help you access the music. Also, if you have performed any of my pieces, I love to know about it! Maybe you have a recording …
I'm initiating a new Really Short Opera project and I'm collaborating with some literary, and just downright creative, friends to construct a unique libretto. If you read this and have any libretto-istic ideas, please pass them on – or maybe you want to join in the collaboration?! Just let me know and I will get you the details.
The Venice Key (working title) book is chugging along in the background. I spend a little time each day plotting ahead and writing the first draft of those scenes already plotted.  I confess that I'm a very slow novelist, but there is progress. Meanwhile, the completion of Twin Killing also looms on the horizon.
I hope you waded through my summer reading list last time and will try a few of the books on the list. I'm currently finishing up A Death of Distinction by Marjorie Eccles, and then I'll dive into the list.
Enjoy your holiday weekend and stay safe! I'll talk to you next week! Remember to reply, comment, subscribe, share, like, and all the stuff I can't think of right now!  Cheers!  -Jim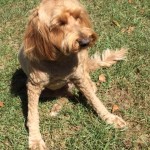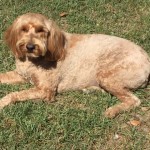 PS: Moxie went to the spa yesterday to get her summer cut! Here she is – I can't tell if she's impressed or not!