Good morning!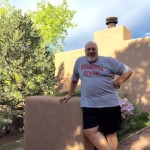 I'm blogging today from the patio of a heavenly condo/casita in the hills northeast of Santa Fe, very close to the opera complex. The condo is the summer residence of Alek and Daniela, our two opera stars! Alek is here singing Tonio in the Santa Fe production of The Daughter of the Regiment, and Daniela is here expecting their first child, due on or about June 14 (Ye gods – that eleven days from now!). Last summer they were both working here with Daniela starring as Carmen, and Alek as Ernesto in Don Pasquale. The summer before that, Alek sang the title role in Britten's Albert Herring. So, this is very familiar territory to them and, since we've visited them each summer here, it is for us as well. I have a brief history with Santa Fe from the years I spent as Associate Director of Choral Activities at Texas Tech, but that's for another blog.
This morning I took Alek to the Santa Fe airport where he flew off to Vancouver to sing Bernstein's Candide with Bramwell Tovey and the Vancouver Symphony. That reveals the real reason that we're here – we're on babywatch with Daniela. The fact is that only the baby and God knows when the blessed event will occur, so I could be a grandfather at any moment now actually!
When I was Director of Music and Fine Arts at The First Baptist Church of Greater Cleveland, I wrote a brief piece on Advent as a time of waiting, i.e., waiting for the traffic light to change, waiting for the water to get hot (or cold), waiting for the Messiah, etc. So, now I guess we're in the advent of a beautiful granddaughter! And I can't wait …
When Alek returns on June 9, we'll go home to Georgia for a few days and then return here for another week, hoping to be here to greet the new family member. Later, in August, we'll be back again to see the Santa Fe shows including Alek's Daughter (pun intended!).
In other personal news, my darling wife of 37 years, Aija, had a birthday yesterday! The four of us had a wonderful dinner at the Four Seasons Resort. When we moved to Georgia, Aija re-invented herself from being an outstanding singer and vocal pedagog, to one of the top realtors in Valdosta. Even as I write this she is inside on the phone and web keeping her team of professionals busy and productive. She is a marvel!
In other news, I have again been asked to do a masterclass with the voice majors of the Georgia Govenor's Honor Program. This will be my third one with them and it is always a very enjoyable event. It will happen in July somewhere between Santa Fe trips.
As for reading, today I'm embarking on the summer reading program starting with Tim Ellis's Whispers of the Dead featuring retired and now reactivated private investigator, Tom Gabriel. The details can be found in the previous post about my TBR list. I hope you join me in a reading regimen this summer – it's good for the mind and the soul!
Finally, I'm using this babywatch time to try to move the Adrian Stone mystery/thriller (Venice Key)into act two. As a matter of fact, when I post this blog, I'll mentally head for the Gulf coast of Florida to see how far the investigation of the skull found atop the Indian burial mound has progressed. When I can better determine the direction of the action, I'll post some small snippets here to whet your appetite for the whole thing.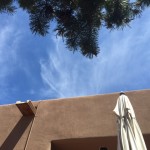 That's all for now …  I'll close with an "artsy" shot of the morning sky as I aim my iphone camera up over the patio.
Cheers!  -JAS