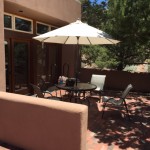 Good afternoon!
On the left there is a shot of the summer outdoor office here in the Santa Fe casita! It's been a gorgeous day and this will be a very brief update,
First of all – babywatch continues! Grandpa-to-be is still in waiting …
Yesterday I finished MC Beaton's Death of a Liar featuring Scottish policeman, Hamish Macbeth.  My review is online at Amazon.com. That's four down from the Summer TBR list! If you're not reading from my list, I hope your reading something this summer. I'm now in the middle of The Fragments That Remain by Tim Ellis. This is the latest in the series featuring the English detective team of Inspector Jed Parrish and his step-daughter, Dectective Mary Richards. Watch for my review on Amazon. This entire series is not for the squeamish, but the dialogue is marvelous, sarcastic, and funny. It's a bit irreverent, but strangely hard to put down. It's not for everyone, but I urge you to try a few chapters just for fun. Next up is a return to Arizona with Sheriff Joanna Brady in Remains of Innocence by JA Jance.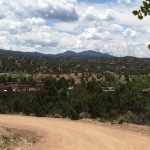 Alek finishes up Candide in Vancouver tonight and comes here tomorrow. The next day we return to Valdosta for three days, but we're back here on Saturday. I'm hoping the baby is cooperative and waits for our return!
There should be some choral music and authoring news on the horizon – stay tuned!
I'n trying to avoid buying a marketing and promotion service, so again I ask you to please reply, comment, share, like, subscribe – whatever all those things mean. Thanks and see you soon – possibly from very hot South Georgia!  Cheers!  -JAS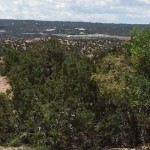 Here's a far-off shot of the Santa Fe Opera Complex taken from the condo patio (It's that white thing sticking up from the mountain in the upper center of the pic). It's a great season here this summer. Try to come see some shows if you can – especially Donizetti's  Daughter of the Regiment featuring my first-born as Tonio (yup, all nine high Cs!).