Greetings all!
My long hiatus seems to be over! Welcome to August and the closing days of summer with the accompanying expectations of the approaching fall. All kinds of changes are taking place and exciting events have already transpired. Here'a a summary:
Family: The Hotel was open throughout most of July! Alek, Daniela, and Eva arrived on July 3rd and stayed for more than two weeks! It marked their longest sojourn here in quite a while. Grandma and Grandpa were so thrilled to spend every day with the exquisite Eva!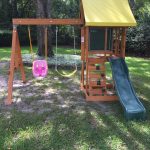 In  preparation for her visit, a new swing set was erected in a shady spot in the back yard, It was ready for the arrival on July 3rd. and used by everyone, but especially during Grandpa and Eva morning time when we did lots of swinging, threw the frisbie to Moxie, did some faux gardening in the empty pots surrounding the pool, generally explored the back yard, and spent some quality quiet time in the gazebo.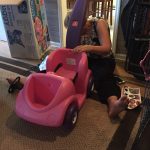 Grandma came up with a special treat that she put together during the visit and it proved to be a huge hit for mini-trips all over the house, around the pool, and even around the block! There's so much more to tell, but that can be saved for later …
A few days after they arrived, here came Aunt Dorothy (Dee Dee), to join the family fun! Dorothy has left her position at Opus 3 Artists to go back to Westminster Choir College to pursue her Masters degree. She's not totally out of the arts administration business as she has taken a summer position as artistic administrator for the young vocal artists at the Ravinia Festival in Chicago. As a matter of fact, as I write this, she is hard at work there right now.
Dovetailing with the above visits was the arrival of the Jirgensons including Aija's siblings Dainis and Nora and niece Andi. It worked out perfectly as they got to spend some days with the Shraders and particularly Eva. They stayed for another week enjoying the pool, the sun, and the incredibly hot weather! The Jirgensons side was particularly happy to spend time with their mother, the matriarch Valda who is a hardy 93 years old!
The plan is to see everybody again in December as part of the annual holiday celebrations!
Opera/Singing: Both the professionals are appearing this summer in the Mostly Mozart Festival in NYC with Daniela standing in for her friend Sasha Cooke in The Illuminated Heart and Alek as tenor soloist for the Beethoven Mass in C and the Mozart Requiem.
Then it's off to Europe where Daniela is Rosina in Barbiere at London's Royal Opera House in Covent Garden and Alek sings a recital at Wigmore Hall accompanied by Roger Vignoles. Later, Alek sings Ferrando in Cosi fan tutte in Oviedo, Spain. (Grandpa is lobbying for European "nanny" duty!)
Recording: My copies of Dashing arrived a few days ago. The official release of this holiday compilation CD is scheduled for September 9. It features the work of nine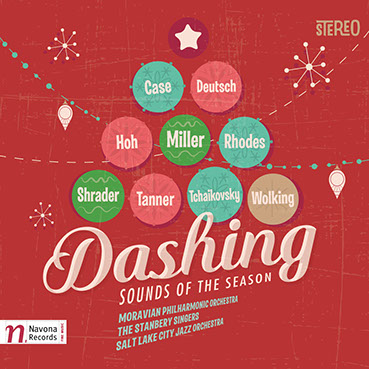 composers and is an eclectic opus from symphonic to jazz with mostly choral works in between. My contributions were In the Bleak Midwinter and Balulalow performed by The Stanbery Singers under the direction of Paul John Stanbery. The recording is under the umbrella of PARMA Recordings on the Navona label. You can peruse the details at http://www.navonarecords.com/catalog/nv6055
This past summer Alek recorded some lieder and melodie by Nadia Boulanger which will be coming out later in a CD shared with soprano Nicole Cabell. The recording sessions are currently being mastered and there is no release date as of yet. I have heard some of the work in progress and I can tell you that it is very fine singing!
Finally, I have signed on with PARMA Recordings for another project. This time it is a recording of my "really short opera," Frogs Always Get You in the End with a libretto by Ian Ruthven. This is an eight minute piece for soprano, baritone, flute, clarinet, and cello. You can see and hear a school performance of it over on the music/opera page of this site. We'll record it in Boston next March. The personnel has yet to be selected, but I will conduct!. Following the recording session, I will go to the PARMA facility in New Hampshire to be involved with the editing and mastering of the session results. I'm very excited about this opportunity. This will become part of a longer term project to produce an entire CD of my music. Stay tuned …
Composing/Publishing: The new Christmas piece this year is my arrangement of my own On Christmas Night, originally for SATB choir with keyboard. The new arrangement is for TB choir with flute and harp (or keyboard). The text is the traditional Sussex Carol.
My SATB/Keyboard setting of The Sussex Carol. Perfect for small choirs:
http://www.collavoce.com/catalog/item/on-christmas-night-15-95950
My arrangement of the same piece for TB choir with flute & harp (keyboard):
http://www.collavoce.com/catalog/item/on-christmas-night-15-94300
I've done several Facebook ad campaigns touting some of my published Christmas pieces. You've probably seen them. I'll keep them going for a while. If you have any influence on holiday music selection, I would appreciate your help in getting some of these pieces performed this year. Let me know if you're successful. Dr. Carol Krueger and the VSU Choirs are considering recording my Love Came Down at Christmas which would fill a void in my recorded opere.
I am currently working on a setting of the hymn tune Aberyswyth which you probably know as Watchman Tell Us of the Night. It's for two antiphonal unison choirs accompanied by double bass, vibraphone, and oboe (the bass and vibe parts can also be done on one keyboard). It's a cool, jazzy setting that I messed around with back in my Cleveland days. Another choral piece in progress is my original setting of There Is No Rose. It's currently in an embryonic state with a melody and some ideas of chord structure. The tune's been rattling around in my head for quite some time. Of great interest to me is the resurrection of a piano piece that I composed in 1984 and has been lying dormant in a number of boxes and garages since then. It's called A Simple Adagio. It's my only piece for solo piano and I really like it! I don't yet know what I'll do with it, but at least it is now living again!
I'm still constantly on the lookout for an opera libretto …
Retirement: As of July 1, I am officially retired! Before then, I was just tired. Frankly, my skills were not being used in the music department and I was not going to be allowed to continue in the Honors College. Administrators can be stubborn, jealous, self-serving, and difficult at times! I know – I used to be one …
At any rate, after wending through reams of paperwork, all is finally in place. In addition to writing, composing, reading, watching TV, etc., I am studying to take my state real estate agent exam. In so doing, I may be able to help Aija, who is one of the top realtors in town,  and continue to add to the coffers. Plus, we worked together for the first 28 years of our marriage, but not the last 10 since moving to Valdosta. Therefore, I'm really looking forward to teaming up with her again in this next chapter of our lives.
In short, retirement is good! I find I don't miss academia very much at all. I would still like to do a few masterclasses, a little conducting, and maybe direct an opera now and again – but time will tell. One thing that retirement definitely is – BUSY!
This post is turning out to be longer that many of my novel attempts! So, I'll quit. If you've read this far, congrats and thanks for your interest. I would ask that you visit the music pages, particularly the choral page. Also, if you're interested in what I'm reading or writing, please visit the books page and particularly the reading list page. I'm on my last book of the summer list and I will finish early. The fall list has some great authors. I hope you'll join me for some cracking reads!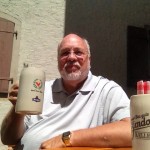 Until then, my friends – Cheers!  -JAS
Don't forget to reply or comment on any page!!!!!