Greetings all!
It's a hot, sunny Saturday here in South Georgia. I just had a nice swim and float in the pool and am now ready to take care of some items on the todo list. During the floating part of the "dip," I finished reading Michael Orenduff's "The Pot Thief Who Studied Einstein." That's actually the first book on the Fall TBR list which doesn't start until September, but I finished the Summer list early and plowed ahead into Fall. Michael is a Valdostan and recently opened a coffee shop downtown called "Books and Table." His Pot Thief series is completely absorbing and easy reads filled with all the stuff we mystery buffs look for: lots of red herrings, a continuing cast of interesting characters, great descriptive location writing, and a plot that keeps you guessing until the end! Bravo Michael!
The first week of classes at Valdosta State is now in the books. It was an interesting time for me. For the first time, I didn't have to prepare classes, organize class lists, choose repertoire, adjust syllabi calendars, and a plethora of other things that accompany the equivalent of "opening day" in the academic world. What's interesting is that, for my entire teaching career, I really looked forward to going to work. Not being able to experience that was an interesting emotional conundrum. In the days leading up to the start of university, I would think, "right now I would be doing this or doing that," – but I wasn't! My first thought was that something had been taken away from me, but somehow I didn't feel that way. For years I have tried to be an agent of change, promoting it as a good thing. I truly believe that change is an opportunity for growth above everythnig else. Now, here I was in the midst of one of the greatest changes in my life – retirement! So, while I'm terribly interested in how the academic year will unfold, I'm not bothered to be apart from it. I have my retired faculty card, my reserved parking decal, my seasons tickets to football and basketball, and my all-sports pas for the rest. I'm good to go!
This change has allowed ample opportunities for me to grow in exciting ways. I embrace the path ahead and look forward to new destinations!
AND … we've converted the dining room into a spectacular office for me! I have two desks and two chairs from which I can fulfill my double or triple life styles. The big library table on the left,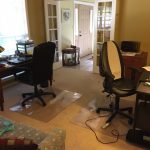 facing the front yard view, is the general work station mostly for the upcoming real estate functions. On the other side of the room is the creative workstation with the composing and writing equipment. It's simply the best office I've ever had. It's wonderful to go to work every morning at the bottom of the stairs. And, particularly, right down the hall from my darling Aija. We haven't worked together in close proximity like this since 2006 at NWOSU!
I have more to report, but I'll leave that for Monday. Aija is in Princeton helping Dorothy get ready to begin her Masters; Alek, Daniela, and Eva head to London tomorrow; Valda, Moxie, and I are holding down the fort and enjoying the Olympics. All is well – more later …   Cheers!  -JAS