Greetings!
It's been quite a while since I've spoken with you. I see the last post is dated April 5 – OMG!
I had been relating that marvelous time in Tucson and Phoenix when I was hanging out with my darling granddaughter Eva, while her parents, Alek and Daniela, performed with Arizona Opera. I flew back to Valdosta on April 10 and was met with an avalanche of real estate work (shooting five videos and taking an advertising/social media class) along with an eye exam, Moxie grooming, and VSU Blazer softball.
On April 20, it was time to fly to Boston and record my Very Short Opera – Frogs Always Get You in the End. We were recording at the Shalin Liu auditorium in Rockport, MA. It is a beautiful 300 seat space with an incredible view (from the conductor's POV) of the rocky shoreline, crashing waves and all!
The crack PARMA Recording crew was excellent and very well organized. The instrumental trio was outstanding and very flexible. The singers were well prepared and a brief rehearsal was all that we needed to begin the session. I was thrilled to return to the conducting podium where I hadn't been (and missed it!) for quite a while.
The Princess was Aliana de la Guardia.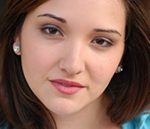 The Frog was Brian Church. 
I was so fortunate to have my wife and partner Aija with me for the entire project. While I was conducting on stage, she was in the control room with the technicians. Her input was invaluable as it has been for the last 39 years!
I have uploaded the recording on the music/opera page in this blog. I hope you will take seven minutes to listen to it. I am in the process of developing a performance package that would include scores, parts, and staging/touring possibilities. I'm hoping that universities and opera companies will consider this piece for community and school touring projects.
Because the recording session in Rockport was on Friday and the editing/mastering session was scheduled for the following Monday, we had Saturday and Sunday off. At first our plan was to be tourists in the Boston area, but we ended up driving our rental car to New Jersey and we spent some great time with daughter Dorothy! It was a whirlwind visit to be sure, but well worth the drive. Conversations during long drives are often the best and the time spent with Dorothy was wonderful!
So we returned to the PARMA Recording home studio in North Hampton, NH and got to visit with technicians and executives as we put together the fruits of our recording labors. It was a wonderful experience and I hope to be able to do more with this exciting company.
After an overnight near the Boston airport, we boarded planes – Aija to South Bend, IN and me back to Valdosta. But that's the next chapter!
Thanks if you read this far! More coming soon … Cheers!