Greetings all!
Coming to the end of my three weeks in Phoenix/Tucson! I've been Hanging out in Phoenix and Tucson with Arizona Opera, represented by Cenerentola (Daniela) and Ramiro (Alek), AND my main squeeze – granddaughter, Eva (22 months old)!
After eight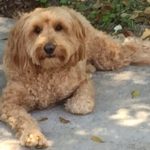 een days, really missing the Georgia family – Aija (of course!), Valda, and MOXIE!!!
A few highlights so far:
♦ Sunday, 03.19 Arrive in Phoenix – a beautiful mini-hacienda in Spanish style – lovely bedroom for the grandpa-nanny!
♦ Saturday, 03.25 – scratched my Spring Training itch by taking Alek to see the Indians/White Sox at Goodyear Ballpark. [Indians up 7-6 with 2 out in the top of the 9th … BAM! White Sox GRAND SLAM! … Tribe loses 10-7!] I coulda seen this with the Phillies in Clearwater!
♦ Monday, 03-27 – load up the car and transfer to Tucson for opening weekend. Staying next to the opera singers plus one, in my own room at the Courtyard Marriott. [Great to see Andrew Owens (Best Man at the Alek/Daniela wedding) again after several years! He's alternating Ramiro with Alek.]
♦ Saturday, 04.01 – Opening Night for Daniela & Alek – can't find a review yet – everyone seemed happy!
♦ Sunday, 04.02 – I'm going to the matinee to see/hear Andrew, et al. Good show! Dean Williamson conducting – Andrew was great!
♦ Monday, 04.03 – load up and drive back to Phoenix (We actually did this on Sunday right after the matinee!)
Future highlights:
♦ Friday, 04.07 and Sunday, 04.09 – Daniela/Alek performances
♦ Monday, 04.10 – Everybody to airport; me to Valdosta, the other three to Houston!
If necessary, I'll fill in details of the above in another post!
Let's go around the categories!
Reading List:
Spring is only ten days old and I'm well ahead in the Spring 2017 reading list. Two contributing factors – I finished the winter list early, and – I have a lot of time to read here in Phoenix/Tucson when I'm not on Eva duty! I have added several new entries including some novellas which I'm happy to put paid to my complete reading list. So far this Spring,  I've investigated diverse crimes with Tom Gabriel (Tim Ellis – Games of the Dead), Hubert Schuze (Michael Orenduff – The Pot Thief Who Studies DH Lawrence), John Rebus (Ian Rankin – Rather Be the Devil), Milan Jacovich (Les Roberts – Speaking of Murder), Joe Gunther (Archer Mayor – The Catch), and now I'm in England with Alan Banks (Peter Robinson – Blood at the Root). Still to come are visits to the Scottish Highlands (MC Beaton – Knock, Knock You're Dead), England – (Tim Ellis – There Is No Fear in Love), Philadelphia (Jane Haddam – Baptism in Blood), Arizona (JA Jance – The Old Line), Seattle (JA Jance – Ring in the Dead), and finally Amsterdam (van de Wetering – Just a Corpse at Twilight). Lots of adventure and travel. Join me …
Composing/Recording:
Doing some score preparation on the Frog Opera to be ready for the Boston recording session on 4/21. Once I get back in the studio, I'll continue work on the Georgia Ambassadors repertoire and look ahead to the next holiday publication season.
Real Estate:
I've been doing quite a bit of long-distance work from here in Phoenix/Tucson. Several closings and a listing await my return to Valdosta. The learning curve is not quite as daunting as it once was and I'm guided by my brilliant mentor, Aija.
I'll sign off now, but with anticipation that the next post will have details of the Boston trip, perhaps some vacay sight-seeing, and the recording activities. Cheers!  – Jim