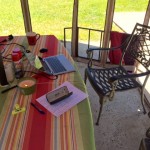 Greetings on this overcast, but hot and humid morning from very South Georgia!
I was up and to the gym early this morning, then a bagel and coffee, a check of the emails, twenty minutes of meditation, and we're ready to go! Errands today include a brief stop at my office in the Honors College, pick up meds at CVS, and replentish some staples at Publix. I hope to be back in time to write about 2000 words and reward myself with a few swim intervals. I'm cooking Shepherd's Pie tonight from the Dr. Gott's No Flour, No Sugar Cookbook. After dinner, perhaps just a wee dram of Glenmorangie single malt scotch!
Reading News – I finished Jane Haddam's Festival of Death and I'm now starting Cynthia Harrod-Eagles's Dear Departed. Next up will probably be Donna Leon's Beastly Things. I hope you're doing some reading this summer. If you're reading any books from my list, please let me know so we can compare notes.
Travel News – My buds from the Oklahoma Ambassadors of Music have returned from their 16-day European tour. Judging from the photos and reports, it was lots of fun and very successful. I'm going with the Georgia Ambassadors next summer. Incidentally, I'll be composing some music to be performed on that tour! As for personal/family travel, I'll be returning to Santa Fe the first week in August to see Alek in Daughter of the Regiment. Additionally, I'd like to squeeze in a day to the beach at either, Jeckyl Island, St. Augustine, or Cedar Key.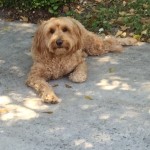 NB. It just started raining like crazy and our resident frog, who is quite vocal, is having a great time! The oblivious Moxie is asleep on the couch …
July News – I do a vocal masterclass tomorrow for the Georgia Governor's Honors Program singers. Also in July, I'm going to make a concentrated effort to write 2000 words per day on the Cedar Key mystery novel (untitled at the moment). I'm hoping to be at 60,000 words by the end of the month. That a real self-disciplinary challenge for me! The good news is that I think I'm coming out of the slump and the ideas/words seem to be flowing again!
Okay, time for a quick lunch and then I'm off! Thanks to Rebecca Lanning for another comment here. I would love it if more of you would reply, comment, like, subscribe, share, and all the rest of it. When the book is done, I'll embark on an interesting marketing plan that should generate lots more activity!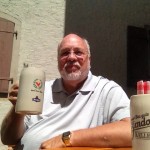 I hope everyone is well and enjoying the summer. I'll see you soon, online!  -JAS