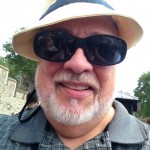 As blogging season peeks around the corner, I felt it was time to spring clean my various operations. This isn't the official relaunch yet, just the exhibition season as it were. As I plod (or re-plod) through the vagaries of Word Press, I've made some decisions about how my work will be presented online.
I've dropped Go-Daddy as a web hosting service while keeping my domain name (jamesshrader.com) with them. I've contracted with Web Hosting Hub to be my new server. I've also finally settled on Word Press as my site editor. Now all I have to do is write the damn thing on a more regular basis than once or twice a year.
I'll spend the next few days designing a new version of this site and hopefully launch before next Thursday when I'm off to the Southern Regional Honors Conference in Greenville, SC. Coming up after that is the annual spring training trip to Clearwater, FL to attempt to figure out why the Phillies always contend for the worst team in baseball title! Two games this year – Yankees on Friday and Tigers on Sunday. Saturday is beach day!
Meanwhile, it was almost 84 today! I'll talk to you soon ,,,  -JAS