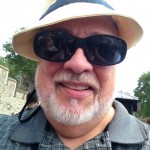 Saturday dawns wet, but warm. I've started fleshing out the pages of this new site. Unfortunately, when I moved from Go Daddy to here, I neglected to save my page information – so it's start all over time! Tedious, but I think it will eventually be more user friendly. On the surface, the Word Press platform is fine, but when you want to tweak it just a bit, there is a pretty steep learning curve, at least for someone like me who is a code newbie!
It's nice to be in the outdoor gazebo. The breeze is a bit on the chilly side, but it's 73 now and expected to hit 81 a bit later. Lots of rain overnight and this morning. The sun was out for a brief moment but now it's overcast again. It's unfortunate for the Azalea Festival which is an outdoor fine arts fete in Drexel Park across from the University. I also plan on attending the VSU softball double-header today if they are willing to brave the wet weather.
What's on my Kindle?
I'm currently reading "Dear Old Dead" by Jane Haddam (Gregor Demarkian) Philadelphia/NYC
The "up next" list includes (in no particular order):
"Spider Woman's Daughter" by Anne Hillerman (Leaphorn & Chee; Anne is Tony's daughter) Arizona/New Mexico
"Fields of Glory" by Michael Jecks (One of my absolute favorite authors – check out his blog and videos)
"Gatekeeper" by Archer Mayor (Joe Gunther) Vermont!!!
"A Necessary End" by Peter Robinson (Inspector Alan Banks) England!
"Black Diamond" by Martin Walker (Bruno, Chief of Police) France!
I got about 1000 words in yesterday on Venice Key – just beginning, really. The plot os loosely set, but it promises to be a plotter/pantser combo unless the muse hits me with a 2×4! The protag for this one is Adrian Stone a village police lieutenant on a small island key off the west coast of Florida – shall we say VERY similar to Cedar Key … (which, BTW, is an amazing place to get away from it all! I've been there quite a bit this year for research and relaxation. It's "old Florida" as the locals say, or "Florida before the mouse!"
Nick Flemons is not quite dead yet. I abandoned Twin Killing about a year ago, but lately the story has been on my mind again.  It's probably because of my upcoming spring training trip to Clearwater.
I better get back to web design until it's time for softball!  Cheers!  -JAS