Greetings everyone! In order to catch up on recent activities, we're going to go back in time (you can do that in a blog!) and see what's been happening since spring break started on March 14.
As you know, every spring break I make an annual pilgrimage to Clearwater to check out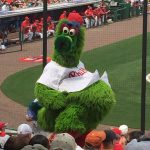 the prospects of the Philadelphia Phillies. I try to go to as many games as possible, but always the St. Patrick's Day game where the Phils drag out their greeen unis! It was a nice drive down I 75 to Clearwater and I went straight to the ballpark. The first game was against the cross-town rivals, The Tampa Bay Rays. They looked good – the Phillies did not!  Result: loss 5-3!
The next morning I indulged in another highlight of the trip – breakfast at Lennies! This is a bit of Pennsylvania ripped from hallowed ground and replanted right next to The La Quinta Inn (my abode) in Clearwater. It's hard to describe Lennies, but, suffice it to say that they serve SCRAPPLE! This is an indescribable PA delicacy of rather dubious ingredients, but, to my Pennsylvanis Dutch palate, just heaven!
I walked to the field to see the Phillies take on the cross-state Pittsburgh Pirates. Today, the Phillies were in top form. I think 18 batters came to the plate in one inning! Result: win – a lot to a little!
Usually, I spend Saturday night at Pier 60 on Clearwater beach, but after the game the rains came! I was forced to watch some March Madness basketball in my room.
Sunday morning the weather was again questionable, but I tried to be positive. This was an away game for the Phils, so I drove the fifteen minutes to the home of the Toronto Blue Jays in Dunedin (that's Dun-EEEE-din). There was a light rain falling, but a crowd still gathered in hopeful anticipation. After waiting about an hour, the game was cancelled.
I headed north to Valdosta!