Greetings!
So, I left you in the Boston airport on April 25 after the successful recording, editing, and mastering sessions of my Really Short Opera – Frogs Always Get You in the End. (Go over to the music/opera page to hear it and see some details.)
So Aija flew off to South Bend to be the Grand-Nanny for Eva while the parents did some house hunting. I should say here that the reason for the house hunting was that Alek had accepted a position as Assistant Professor and Director of Opera at Notre Dame University! While he will continue his singing career, as will Daniela, they will put down some roots in South Bend as Eva approaches her second birthday.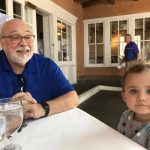 Here's Eva and Grandpa this summer in Santa Fe!
Anyway, Aija is off from Boston to South Bend and I am returning to Valdosta.
Once again, I returned to lots of real estate activity: showing houses, videos, paperwork, meetings, etc. The most exciting event on the real estate front was the annual Realtor/Affiliate Fish Fry Dinner which I attended by myself since Aija was still on Nanny duty in Indiana. At this event, you walk around visiting all the Affiliate vendors that we work with each year and leave your business card. Later, after the fish fry meal, each Affiliate pulls out a business card and awards a prize to a lucky Realtor. Well – I hope you're sitting down – I WON! I won a great new Apple Watch, which I love! Many of the colleagues immediately sent text messages and photos to Aija to mark the celebration!
In addition to real estate activities, the VSU Blazer Softball season began (I am a huge fan, with season's tickets), and my personal swimming season opened in our wonderful pool! (I don't get in until May 1!) This time was also marked by three regular doctor appointments and the return of Grandma Aija from South Bend.
On May 5, we went to Steel Magnolias restaurant in downtown Valdosta for a great 39th Anniversary dinner!
Here endeth the lesson …  See you next time! Cheers!